The Few
Alternative Punk Rock
von The Few
erstellt 03.12.2009 13:18 Uhr
Bandinfos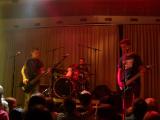 Anfang 2007 gründete sich die Band The Few.
Die Band sind: Nick(Git.,Ges.),Basti(Bass),Max(Drums).
Da The Few schon einige Live Auftritte hatten , und schon gut aufeinander eingespielt sind, deswegen geht's Anfang 2010 ins Studio.Max spielt seit 2005 Schlagzeug , Nick seit Sommer 2004, Basti seit der Bandgründung.
Allgemein hören The Few derne gute Mukke wie z.B. Rise Against,Blink-182,Ärzte und sonst alles was
gut ist.
Homepage
http://www.thefewband.npage.de


Kontakt
Nick

22337 Hamburg
Telefon:

Songs
Fotos