The Daily Sun
Born of the age we live in! - Alternative Rock and Power Pop
von sun-and-moon
erstellt 05.09.2018 09:21 Uhr
Bandinfos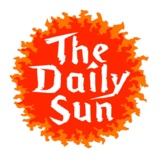 The Daily Sun - Born of the age we live in!
Rock und Power Pop, rough und straight gespielt. Ob Alternative Rock, Indie-Pop oder Westernstyle. Unmittelbar, rau und melodisch.
Als Liveband spielen sie aus dem Stand gleich drauf los. Nach erfolgreichen Auftritten in den letzten Jahren um eine Spur rockiger geworden, haben sie neue vielfältige Songs geschrieben, die sie 2023 vorstellen werden. Einige Aufnahmen aus dem Proberaum gibt es auf youtube zu sehen und zu hören. Der Sound dieser Aufnahmen wurde nicht bearbeitet, sondern so wie gespielt auch ins Netz gestellt. Mit diesem Bootleg-Charakter verbindet sich der Wunsch der Band immer unmittelbar bei der Musik dabei zu sein. Die Leute fangen bei den Live-Konzerten oder Zuhause am Handy an zu tanzen und mit zu wippen.
Rock and power pop, rough and tough; straight played with familiar and unfamiliar tones - whether alternative rock, independent pop or in a kind of western style. Immediate, rough and melodic - in the language of those who invented this music 100 years ago. The Daily Sun is influenced by musicians of this entire age. As a live band, they start playing straight away. After having performed a bit more rock in recent years, they have written a variety of new songs that they will present in 2023. At some point the band decided not to use covers because there are so many beautiful songs of their own. Some current recordings from the rehearsal room can be seen and heard on youtube. The sound of these recordings was not edited, but posted on the web as it was played. This bootleg character is linked to the band's desire to always be part of the music. Sure, People start dancing at concerts and bobbing on their cell phones at home.
Bemerkung
Live-Termine 2023:
22.06.23: Altonale Hamburg - Altona macht auf!
29.06.23: Altonale Hamburg- Altona macht auf!
02.07.23: Dorffest Rissen - Hamburg


Homepage
https://www.backstagepro.de/the-daily-sun
https://www.youtube.com/channel/UClHaTZiIhOarxo8QerqHjRg?app=desktop
http://www.thedailysun.de
Kontakt
The Daily Sun ( Booking bitte erst per E-Mail)

Hamburg

Telefon: the-daily-sun (und dann @) web.de

Songs
Should known better - The Daily Sun
Smile - The Daily Sun
Dancing with the devil - 2020 - The Daily Sun
Fotos


Andere Bands in dieser Kategorie: Alternative
---
---
Hightech Hammurabi (Indie-Fresse)
---
---
noch nicht fertig ! (Garage alternative, Wüstenrock, hillbilly Country)
---
NERD SCHOOL (Alternative Rock DUO)
---
FLASK (pychedelischer Blues-Grunge)
---
Carny Lingo (Alternative-Bluesrock, düster und verspielt, irgendwo zwischen Tom Waits, Madrugada und Nick Cave)
---
highcoast (Sunsoaked Surfrock from Hamburg, Germany)
---
---
InFlator, André Angelo (InFlator: Alternative Rock, Metal, Pop Rock, Rap Rock. Solo-Sachen: HipHop, EDM, Triphop, Score)