Go for Cash
A tribute to the man in black and friends!
von Go for Cash
erstellt 05.02.2017 15:48 Uhr
Bandinfos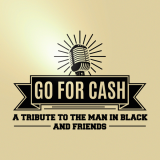 'Go for CASH', a tribute to the man in black and friends.
Die Band hat sich 2015 in Hamburg gegründet. Was uns verbindet ist die Leidenschaft für die Musik der Fünfziger, mit Künstlern wie Johnny Cash, Elvis Presley und Carl Perkins.
Wir spielen in der Originalinstrumentierung von Johnny Cash und seinen 'Tennessee Two' mit Kontrabass, Akustikgitarre und Elektrogitarre.
Eine entspannte Musik-Show, gemütlich, stilvoll, charmant.
Wir spielen auf großen und kleinen Bühnen, auf Privatfeiern, Betriebsfesten und zu allen anderen Gelegenheiten.
Akustisch als "Walking Act" oder mit eigener Anlage!
Homepage
Kontakt
Alois Franz
Damm 57
25421 Pinneberg

Telefon: 04101 841210

Songs
Fotos