Blister
Rock/Alternative Rock/Indi-Rock/Pop
von Patrique
erstellt 09.08.2008 14:09 Uhr
Bandinfos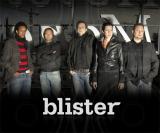 Hi all, we are
blister
from Hamburg.
We use elements of pop, rock, alternative and independent music to create our original sound.
Blister was formed in July 2005 and brings together Marie Hannig(singer/keybord), Patrique Meny (guitar),
Marlon Sdun (bass) and Dennis Kaupp (drums - has unfortunately left the band this summer ).
NEWS:
Wir suchen einen neuen Drumer in Hamburg.
Dennis unser Schlagzeuger musste aus zeittechnischen Gründen die Band leider verlassen. Darüber hinaus ist unsere Musikrichtung diese Tage etwas popiger/ruhiger geworden und unsere Sängerin integriert in unseren neuen Songs die Keyboards.
Du solltest zwischen 25-38 sein und schon einige Jahre Schlagzeugerfahrung besitzen. Wir sind keine Profis haben alle aber schon einige Jahre Musik auf dem Buckel. Wenn Du auf der Suche nach einer, im Rahmen unserer Möglichkeiten, ambitionierten Band bist und Dir unsere Musikrichtung gefällt melde Dich.
In diesem Jahr sind ein zweites Album und eventuell weitere Konzerte geplant.
Wir freuen uns auf Dich...
Proberaum: Hamburg-Eimsbüttel
Probetermin: Donnerstag Abend
Homepage
http://www.sellaband.com/blister
http://www.myspace.com/blistermusic

Kontakt
Blister
Patrique
20259 Hamburg

Telefon: keine Telefonnummer hinterlegt
Songs
Grasp the closest star:: Homecoming Studio Mix
You & I
Phantom of the sea (acoustic)
The Echo ::
Fotos
Andere Bands in dieser Kategorie: Rock
---
OUTDOOR (Cover-Rock für (fast) alle Events)
---
Embercrow (Dark Rock / Melancholic Metal)
---
KOENIG (Musik aus Hamburg)
---
One of a million (Indie-Trash-Rock mit einem Hauch indischem Britpop)
---
Gedankenspiel (Deutschrock)
---
One Deal A Day (Pop-Rock / Punk)
---
Collapse Under The Empire (Post Rock, Rock, Alternativ, Instrumental, Experimental, Indie, Soundtrack, electronic rock)
---
Desert Daemon (Wüstenrock mit peitschenden Gitarren, donnerndem Rhythmus, magnetischem Gesang und aggressivem Sound!)
---
Seasons of Time (Progrock)
---
Brett (Gitarrist für Rock, Rock`n`Roll, Blues)