Bunnylike Bird
Alternative Rock
von BunnylikeBird
erstellt 07.11.2011 20:55 Uhr
Bandinfos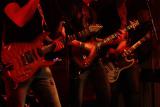 Bunnylike Bird with new EP Green Baron: .
.
.
.
.
https://www.facebook.com/#!/pages/Bunnylike-Bird/127602440643053
-
Seit dem frühen Sommer des Jahres 2005 treibt der kaninchenartige Vogel nun schon sein Unwesen. Wie es für eine so seltene Art üblich ist, scheut er sich die ganz große Öffentlichkeit zu suchen, wurde aber dennoch häufiger mal auf verschiedenen Bühnen von Hamburg und Umland gesichtet. Wenn er dort sein Ohrenbetäubendes Gebrüll verlauten lässt, hört es sich meist nach Rockmusik an.
The focus is on the stage.
Homepage
http://de-de.facebook.com/pages/Bunnylike-Bird/127602440643053
http://www.myspace.com/bunnylikebirdmusic

Kontakt
Nils Trede

22303 Hamburg
Telefon:

Songs
Fotos