highcoast
Surf/ Beach/ Alternative/ Indie/ Psychedelic/ Stoner/ Garage - Rock
von highcoast
erstellt 10.09.2016 01:09 Uhr
Bandinfos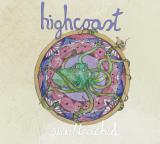 Life is a beach. That pretty much summarizes what the band "highcoast" is about. Living the good vibes and going surfing till the sun drowns in the sea. Having bonfire nights and getting high till sunrise. The new record called "sunbleached" is inspired by the most beautiful beaches and crashing waves of Australia and is recorded in Germany.
The innovative five- track EP is the debut release of the Hamburg based alternative band "highcoast" and it's full of potential. The beach-surf rock sound is relaxing and lets you dream about blue water and bright white beaches.
Living the good vibes.
Dreckiger Sound, eingängige harmonische Melodien und Energie geladene Songs. Ein Mix aus Schroffheit und Sweetness, das sind highcoast.
Im australischen Sommer gegründet und in Hamburg gestrandet liefern highcoast mit ihrem sonnengetränktem Surfrock entspannten Alternative Rock, der von tief blauen Wasser und weißen Stränden träumen lässt.
Homepage
http://www.facebook.com/highcoastband
https://bit.ly/29xdEZz
http://spoti.fi/29wiwyE
Kontakt
Florian Lehmann

22393 Hamburg

Telefon: keine Telefonnummer hinterlegt
Songs
Fotos
Andere Bands in dieser Kategorie: Alternative
---
---
vermobs (Singer Surfwriter)
---
---
FoxVille (Alternativer Rock mit Pop-Elementen)
---
Taco Tuesday (Alternative Rock)
---
Johnny Beck (Ich Spiele eine Mischung aus Metal, Prog Metal und Rock)
---
Maui (Alternative/Soul - wies sich grad so anfühlt..)
---
Bunnylike Bird (Alternative Rock)
---
Die Handlung (Alternative-Rock, made in St. Pauli)
---