The Black Bom Bom Bala
Gleaze Rock (Glam+Sleaze)
von thebbbb
erstellt 09.05.2011 11:00 Uhr
Bandinfos

_+880______________________________
_++88______________________________
_++88______________________________
__+880__________________________++_
__+888_________________________+88_
__++880________________________+88_
__++888_______+++88__________++88__
__+++8888__+++88880++888____+++88__
___++888+++++8888+++888888+++888___
___++88++++88888+++8888888++888____
___+++++++88888888888888888888_____
___++++++++88888888888888888888____
___+++++++++0088888888888888888____
____++++++++0088888888888888888____
_____++++++++000888888888888888____
_____+++++++++08888888888888888____
______++++++++0888888888888888_____
________+++++++88888888888888______
________+++++++88888888888888______
Hometown:
*************
Hamburg, DE
Genres:
*********
Rock
Sleaze
Metal
Members:
***********
Alex Miller
Mick Straight
Franky
Maze
Vince
THAT`S IT...und mehr nicht!!!
"Wir", 5 Typen, aus allen Himmelsrichtungen Deutschlands, die sich in Hamburg mühseelig gesucht haben, um einen "good vibrating ASSKICK of LOVE, HUGS and VIOLENCE" auszuteilen! "LIKE NO TOMORROW"
Zur HISTORY möchte ich an dieser Stelle nicht allzuviel sagen, denn es beginnt in diesem, in diesem Augenblick! So eine Band funktioniert meiner Meinung nach erst ab dem Punkt, wenn Musiker zu Freunden werden. Erst dann fühlt es sich echt an!
WE`RE PURE FUCKIN REAL !!!
Alex Miller
Homepage
http://www.blackbombombala.com
http://www.facebook.com/theblackbombombala
http://www.myspace.com/theblackbombombala
Kontakt
Maze

22043 Hamburg

Telefon: keine Telefonnummer hinterlegt
Songs
Buried in a Case of a bad man
Hypnotic Poison
Low on Top
***NEU*** BlackBomBomBala Remix ***
A Life in Solitude *** New ****
Fotos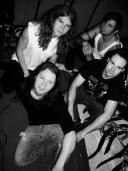 Andere Bands in dieser Kategorie: Rock
---
PaperClips (Oldie, Blues, Coverrock )
---
veto268 (Deutschsprachiger Rock-Pop )
---
SANTIEROS (DESERT-BLUES / ROCK / AVANTGARDE)
---
SUNPASSENGERS (Rock, Desertblues & Avantgarde)
---
INNOCENCE LOST (Lost Rock, handgemachter Gitarrenrock auf hohem Niveau)
---
No Concept (eine Mischung aus Blues und Rock, mal zart aber manchmal auch hart... ;-))
---
Wheel Band (Vintage-Music - nicht nach jedem Modewind drehend, klingt wie gestern, ein wenig abgehangen - Vintage eben...)
---
.vorstadtkind (Hamburger Schule/PopRock)
---
DOCK11 (100% HISPEED OLD ECONOMY BEAT)
---
Blister (Rock/Alternative Rock/Indi-Rock/Pop)