OPHIS
old school Death-Doom Metal
von OPHIS
erstellt 08.08.2008 08:42 Uhr
Bandinfos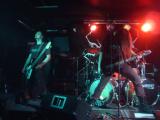 Ophis - depressiver, nihilistischer old school Death Doom Metal aus Hamburg.
Gründung: 2001 zunächst als Soloprojekt, seit 2003 als komplette Band.
Line Up:
Phil - g, v
Jan - g
Olli - b
Nils - d
Discografie
2002 "Empty, Silent And Cold", Demo-CD, kein Label
2004 "Nostrae Mortis Signaculum", EP, Cxxt Bxxcher Records
2007 "Stream Of Misery", Album, Imperium Productions
2008 "Empty, Silent And Cold", Re-Release, Karge Welten Verlag
2010 "Withered Shades", Album, Solitude Productions
Für Infos, Tourdaten, Merchandise, Reviews / Interviews und Kontakt besucht www.ophisdoom.de oder unsere MySpace Seite.
Fuck trends, fuck mainstream pussy Metal, fuck life!
Homepage
http://www.ophisdoom.de
http://www.myspace.com/ophisdoom

Kontakt
Philipp Kruppa

22763 Hamburg

Telefon: keine Telefonnummer hinterlegt
Songs
Fotos