THE SHANK HILL SONGBOOK
Acoustic-Indie-Folk-Pop
von The Shank Hill Songbook
erstellt 29.07.2010 13:04 Uhr
Bandinfos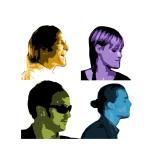 Akustik – Indie – Pop – Folk!
Das alles bietet die Band aus dem Hohen Norden - und dazu eben den ganz speziellen Shank-Hill-Sound!
THE SHANK HILL SONGBOOK
sind drei Jungs und zwei Mädels aus dem Hamburger Speckgürtel , die seit 2007 musikalisch den Spuren von Shank Hill folgen – dem Singer-Songwriter, der plötzlich wie aus dem Nichts auftauchte.

"Through a bunch of young fellows / search for hints in attics like callow!"

Die fünf "young fellows" spielen seitdem nicht nur ausschließlich Songs a u s dem Songbook, mittlerweile s i n d sie selbst das lebende Shank Hill Songbook!
Nachdem im Sommer 2004 bei einer Ebay-Auktion (!!!) die ersten Songs von Shank Hill auftauchten, machten sich die Gründer der Band daran, mehr und mehr das Geheimnis um den bis dato völlig unbekannten Songschreiber zu lüften. Und schon bald darauf war ihnen klar: Shank's Musik muss auf die Bühne!
Wenn The Shank Hill Songbook in die Saiten und Tasten greift und die Trommel rührt, dann klingt das Ganze wie ein Mix aus Musikstilen der letzten 30, 40 Jahre. Da erinnert einiges an den
Gitarrenfolk á la America
, da hört man
Harmonien aus der guten alten Beatles-Zeit
, da klingen so manche
Indie-Einflüsse
durch und sicher noch vieles mehr, was die "Shanks" auch gerne als ihre Vorbilder preisen. Unplugged zu spielen liebt die Band ebenso wie ihren Akustik-Indie-Pop-Folk-Sound verstärkt zum Besten zu geben.
Denn wie heißt es noch gleich in einem der Songs über die Band selbst:

"So what these men found / was my life, love and ground / all held in this book / I hope you´ll get hooked.

Mehr zum Songwriter, zur Band, zur Geschichte dahinter und, und, und ... erfährt man unter: www.shankhill.de
---
The band was emerged in 2005. THE SHANK HILL SONGBOOK exclusively plays songs which are written by Shank Hill or which found favour with him. Thus THE SHANK HILL SONGBOOK is effectively a coverband.
The question who Shank Hill really was isn't easy to answer, actually, as you don't know anything about him. However, you may ponder on his legacies.
To understand what's behind this Shank Hill-mystery you should know how the band got to know him. In summer '04, Thomas G. came across a nice attic discovery on Ebay. The describtion said: "A box, full of notes, texts, diaries, a photo album, and many more goodies. Must have been a musician..." But the seller couldn't give further information, just that he had found the box by himself and he got rid of it now.
This sounded interesting and mysterious and the box was purchased by auction for 10 Euro only - including p&p!!
When opening the box it turned out that it contained also some tapes.
Homepage
http://www.theshankhillsongbook.de
http://www.facebook.com/pages/The-Shank-Hill-Songbook/126694687360881
http://www.myspace.com/theshankhillsongbook
Kontakt
Thomas Gehrke

22926 Ahrensburg
Telefon: 01704094903

Songs
Fotos
Andere Bands in dieser Kategorie: Acoustic
---
BREEZE in the BARLEY (Americana, Singer/Songwriter, Acoustic Rock/Pop, Contemporary Country)
---
Herr und Frau Hansen (A CAPPELLA)
---
Metamorphonia (Dark-Pop, Rock, Akustik-Metal & Singer-/Songwriter)
---
---
Kyle Egret (Singer-Songwriter, Indie, Alternative)
---
Stephan Friedrichs (Akustik - Rock Pop Cover)
---
Mats von Wegen (Acoustic Singer/Songwriter)
---
Chris ´n Bernie (Rock ´n Soul Unplugged)
---
Oliver Henneberger (Rock, Indie, Alternative, Akkustik)
---
Mono Lüüd (psychedelisch, treibende Akustik Folklore)