black six revolt
Alternative, Indie, Stoner Rock
von black six revolt
erstellt 06.06.2017 20:37 Uhr
Bandinfos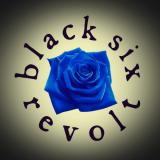 Initally the project was started by a bunch of guys working at the Hard Rock Cafe Hamburg at that time.
After a wild ride on the line-up roundabout this band was founded.
Four guys with very different backgrounds sharing their passion for music and their rage against injustice, ignorance and all kinds of discrimination.
But it*s not ALL about the "f***ing system"... Whatever we have to deal with in everday life has the potential to be processed in a song. And this is what we do.
Life is not the same all the time. And neither is our music.
Homepage
http://twitter.com/blacksixrevolt
https://www.facebook.com/Black-Six-Revolt-1947047715508091/
https://www.backstagepro.de/blacksixrevolt
Kontakt
BjØrN

20535 Hamburg
Telefon: 015778377806

Songs
Let Things Go Down
Fotos