Manfellow
Alternative Rock
von Danny Leo
erstellt 12.07.2014 10:08 Uhr
Bandinfos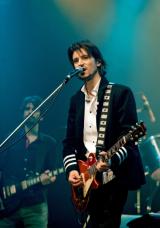 Manfellow are an alternative rock band founded in 2011 in Romania by Danny Leo, singer, guitarist, pianist, composer and producer. After many live concerts, TV and radio shows, in the summer of 2014, Danny is relocating in Hamburg where continues Manfellow musical journey together with other 3 talented musicians. In 2011 Manfellow become GBOB (Global Battle of the Bands) national champions, and later on in 2012, the GBOB World Vice-Champions, in London (UK). In 2012 they were invited to perform to Exit Festival, Serbia. In May 2013 they release the debut album "Wake up Call". Now the band is working to finishing their second studio album, in Hamburg.
The GBOB Press Release after the competition stated: "Manfellow are excellent musicians and songwriters. Their strong and well-versed songs simply captured the audience although out their performance. Their unique sound and catchy melodies easily set them apart from other bands playing alternative rock."
Danny Leo – vox, guitars, keys
Michael Albers – guitars, backing vocals
Daniel Sapcu – drums, percussion
Tim Bublitz – bass, backing vocals.
Homepage
http://www.manfellowband.com
http://manfellow.bandcamp.com/

Kontakt
Dan Leompescu

21680 Hamburg

Telefon: 015171765365

Songs
Why
Handmade Life
Wake Up Call
Hiatus
Gameplay
Fotos