Blast Furnace
Old School Hardrock
von Goddy
erstellt 12.01.2009 10:55 Uhr
Bandinfos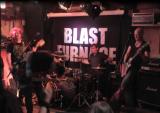 .. Wer auf ein Konzert geht, will gute Musik hören, eine anständige Show sehen und Spaß haben. Sonst könnte er ja auch Zuhause bleiben und sich ..ne Scheibe geben.
Blast Furnace verpasst seinen Hörern und Sehern eine doppelte Packung Rock und Groove. Unsere Songs - alles ausnahmslos durstmachende Eigenkompositionen - gehen über den Kopf direkt in Beine. Und da bleiben sie auch. Einmal angekommen, erobern sie die Gewalt über die Sinne.
Frauen reißen sich die Kleider vom Leib, die Headbanger verlieren erst kollektiv die Beherrschung, dann büschelweise Haare. Und das ist kaum übertrieben ....
Wenn wir die Regler hochdrehen, können die Leute für 2 Stunden abschalten von Maloche, TalkTV und ätherischer Einheitsgrütze.
---
Blast Furnace from Hamburg have been playing hard rock for 28 years. This band hits your ears with brute riffs and pure, dirty rock'n'roll. The audience gets taken on a journey into the sound of Led Zeppelin, Deep Purple, Def Leppard and AC/DC. Enjoy the sex of the seventies and eighties. Best served with a box of beer and a carton of cigarettes.
Homepage
http://www.myspace.com/blastfurnacehardrock
https://www.youtube.com/watch?v=6hvSb2hy_Cc
https://www.youtube.com/watch?v=X96Xd9FGzK8
Kontakt
Gottfried Jungverdorben
Jägerstrasse 18
22926 Ahrensburg

Telefon: 04102/8912922

Songs
Feel the fire
Diving divine
Loveballs
Sex'n sox
Fotos

Andere Bands in dieser Kategorie: Hardrock
---
blackmunkee (alternative Hard Rock)
---
Ghost Bastartz (Alternative Funk Rock)
---
Gun Wild (Sleazerock)
---
Sherry Butt (Technisch versierter Hardrock bis Heavy Metal mit klarem, weiblichem Gesang)
---
---
---
---
Rebels' Reunion (ehrlicher, straighter und traditioneller Hardrock'n'Roll)
---
rsr (Heavy Rock)
---
gft (Heavy Rock)