MIND GAMES
Blues, Boogie & Rock
von Peter Denk
erstellt 10.01.2009 15:40 Uhr
Bandinfos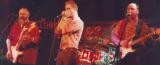 • Mind Games gibt es seit 1981. • Benannt nach "Keep On Playing These Mind Games Forever" von John Lennon.
• 1990 wiederbelebt, in der aktuellen Besetzung seit 2001. • Mind Games spielen in Klubs, Kneipen, auf Partys und in Fußgängerzonen, auf Stadtteilfesten und Open Airs, auf Ausstellungen und Jugendzentren, Hamburg und Umgebung, Altonale, Auerhahn, Lütt Huus, Logo, Das Riff, Downtown, Kaiserkeller, The Crow, Konsortium, Sammys, Kaffee Klatsch, Jekyll & Hide, WunderBar, Jazz Forum Bergedorf, Music Club Live, Meisenfrei (Bremen), verschiedene Veranstaltungen des Blues Circus, Wutzrock, Jugendzentren, Hochzeiten, Geburtstagen usw.
Das Repertoire spannt einen breiten Bogen von bekannten Titeln von J. Mayall, J. J. Cale, E. Clapton, J. Winter, Bluesband, Moon Martin, Beatles, Stones, ZZ Top usw. zu weniger bekannten (Nighthawks, J. Thackery, Calvin Russel, Mark Hodgson, Johnny Nitro usw.). HH, Nov. 2008
Die Songs der Mind Games - die besten Covers und auch deutsche Texte
• Diving Duck • Boney Moroney • If You Go • Scharf auf Strümpf (Fool for your stockings) • Maybe Someday • Unchain my Heart • I saw her standing there • Sie liebt nur mein Automobil (She loves my Automobile) • Nur ein bißchen Knete (Green Stuff) • Route 66 • Diese kleine Stadt (No Secrets) • Roter Mond (Full Moon on Mainstreet) • 99 Pounds • Crazy Voodoo • Mighty long Time • Walking by Myself • Mustang Sally • Outside Woman Blues • Crossroad • She´s a Pretender • Die Liebe ist ein Schnellzug (Xpresstrain) • Little Wing • Guard your heart • Der Frauen Trost (Back door man) • Oh Pretty Woman • Wonderful Tonight • Erreich Dein Ziel (Destination Someday) • Keine Liebe Baby (You dont love me Pretty Baby) • After midnight • Moving On • Aint no sunshine • Messing With The Kid • Mary had a little lamb • Let The Good Times roll • Move it on Over • Wer immer Deine Schulden begleicht (Mighty big shoes to fill) • R´n´Roll Hootchie Koo • The Stumble (instr.) • Kreuzfeuer (Crossfire) • Lies, Lies Lies • All Your Love, Pretty Baby • Mystery Train • Ein Haus weiter (Movin On Over) • Little Sister • Sensitive Kind • Just A Little Bit • High Costs Of Loving • One More Night • Rain In My Heart • Boogie Man • Who's Been Talking • Beer Drinkers & Hell Raisers • Standing At The Crossroads • Politician • Boogie Man • Big Brother • Come On • Have Mercy • Confessin The Blues • Homework • Moon Tune • Great Balls Of Fire usw.usf.
Homepage
http://www.mind-games-hamburg.de


Kontakt
Peter Denk
Legienstrasse 156 b links
22119 Hamburg

Telefon: 040 - 656 49 24

Songs
Demosong 1
Demosong 2
Fotos

Andere Bands in dieser Kategorie: Bluesrock
---
Blij (Zutaten: eine ordentliche Portion Indierock, ne Prise Jazz, zwei drei Löffel Postrock und mit etwas Pop abschmecken. Gut umrühren.)
---
Flying Cow (Jam Rock)
---
KARAJAHN GANG (Rocken muß es. Und Spass machen. )
---
Soul Stripper (Bluesrock-Power-Trio)
---
Goodoldstuff (Eben den guten alten Stoff der 70er)
---
LYXX (Blues und Rock von der nicht ganz so bekannten Sorte)
---
magic bus (Blues & Rock and more)
---
Top Priroryty (Rory Gallagher Tribute Band)
---
Björn Armstrong Band (Power Blues Rock)
---
Ice Off Ice (Blues, Rock und Balladen)