J.O.Y. Band
Soul-Fusion & Groove
von soulexported
erstellt 27.01.2013 19:29 Uhr
Bandinfos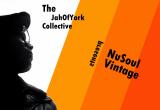 An international effort to break down genre-barriers in present day without tainting established sounds.
A 5-man band all living in Barcelona and looking to be heard worldwide by the right ears and represented at the right venues. Reconstructing Soul sound with innovative methods. Neo-Soul with a twist...old meets new...conventional meets unconventional...
Performing Neo-Soul, Urban Electronica, Jazz, Soul, Blues, Latin, Classical, RnB at Festivals, Concerts, Jam Sessions, Stadiums, Arenas, Bars & Pubs...
Homepage
http://www.facebook.com/thejahofyorkcollective
http://www.facebook.com/jahofyork
http://www.soundcloud.com/jahofyork
Kontakt
Jay

19997 Barcelona, Spanien

Telefon: keine Telefonnummer hinterlegt
Songs
Fotos
Andere Bands in dieser Kategorie: Soul
---
Soul8/15 (Mowtow Stax R&B Funk - tanzbar)
---
Bea (Bea – das ist Soul! Zurzeit produziert sie ihre erste Solo-EP – Hip Hop Breakbeats kombiniert mit soulig-rockigem Gesang. Wir dürfen uns auf ein Release 2015 freuen!)
---
J.W.K. (Indie-Rock/Pop; Funk; Soul)
---
---
Midlife Rambler (Rock & Soul)
---
---
www.RelaxedMusic.de (Acoustic Smooth Jazz & Soul Music)
---
Bento Funghi (Soul-Pop)
---
---
Soulship (Motown bis Neo-Soul)