Cleave
Alternative / Indie / Experimental
von cleavemusic
erstellt 01.12.2008 14:51 Uhr
Bandinfos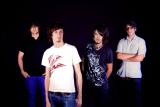 Cleave is a four-piece alternative rock band from St.Paul, Austria. A national radio host stated that their "empathetic riffs and piano parts make Cleave's music a lyrical rest. Cleave's work proves that it is possible to depict emotions without appearing tacky". The band spent the summer and fall 2007 to record their new CD Evoke the Self and released it on March 7, 2008.
Cleave will be promoting Evoke the Self with an extended tour in Europe and the US in 2008 and 2009. The first single "The Sleep" went on airplay in Austria on February 4, preparing the listeners of the hard and mellow fare to come. Famous mulitplatinum producer Mark S. Berry said "I could make a killer record with a talent such as Cleave" after hearing the demos of the new record. And a killer record they made with their producer Andreas Fennes. The new songs are going to touch your tympanic membrane and will motivate you to explore yourself and the world around you.
The four band members have come together to live their common vision of what making music should feel like. Cleave wants to melodize experiences, thoughts and feelings from deep within – being influenced by bands which attempt the same – without trying to fit what is hip and hot at the moment. It is very personal music, and therefore always zeitgeisty. Singer/guitarist Marian has been described as "a talent that Austria sees only every decade or even century" by a host of one of Austria's biggest alternative radio stations Soundportal. Rainer is not only acclaimed for his accentuated and heavy play of the bass guitar, but also for playing emotive and mature piano parts. Florian joined the band after the recording of "Evoke the Self". He has already grown to be an essential part of the band. And another Florian was to join the band, after drummer Burns had to leave for personal reasons. He truly hits the drums as if there was no tomorrow and fits the band tightly like latex. The complex arrangements of their songs flow easily when Cleave sets out to philosophize through their instruments and voices. What they have to say is inspiring, wide-reaching, comforting, disturbing, and so much more.
Cleave is ready to impress and surprise music lovers and music maniacs with their new album. Cleave's reputation for blowing your mind with their live shows will deliver the goods with their new release. Check your favourite record store and Evoke the Self.
Homepage
http://www.myspace.com/cleavemusic
http://www.cleavemusic.com

Kontakt
Marian André Plösch

20000 St. Paul
Telefon:

Songs
Fotos