The Factory Crew
Rockin' Blues Band aus Norddeutschland
von Factory Crew
erstellt 02.02.2011 16:19 Uhr
Bandinfos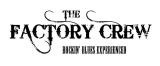 Die FACTORY CREW hat es sich auch nie leicht gemacht. Sie haben sich durchgebissen und jetzt sind sie wieder da, wo sie hingehören: auf der Bühne. Und sie sind besser als je zuvor.
Das Programm mag bekannt vorkommen –
Blues und Rock
, R&B und Soulballaden mit zwei Gitarren, Bass und Schlagzeug. Die Frage ist aber, was man draus macht.
Wer Rock und Blues spielt, improvisiert, fünfe grade sein lässt, sitzt nun mal zwischen allen Stühlen. Wie früher. Dafür braucht man Leidenschaft und Hingabe, Lebensfreude und Kampfgeist. Wie früher.
Das hört man in der Musik, das sieht man auf der Bühne – keine Frage des Alters, sondern der Einstellung.
THE FACTORY CREW - still alive and well!
Homepage
http://www.factory-crew.de
http://www.facebook.com/Factory.Crew

Kontakt
Stefan Petersen
Im Winkel 18
24783 Osterrönfeld

Telefon: 04331-4397954

Songs
Junior`s Wailing
Turn the Page
Lover of the Bayou
Rock'n'Roll HoochieCoo
Ain't no Love in the Heart of the City
Fotos