CHORUS
Die Band der etwas leiseren Töne...
von mcvoigth
erstellt 03.10.2008 12:31 Uhr
Bandinfos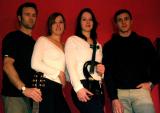 Diese Band gibt es seit 10 Jahren und hat zahlreiche Auftritte, auch in der ferneren Umgebung (Hamburg, Berlin, Stralsund, Parchim, Dahlenburg, Neuhaus, Aurich, Zingst, Berlin, Conau, ...) erfolgreich absolviert. Bei diversen Jubiläen, Eröffnungen bzw. Partys oder auch am Kamin gefallen nicht nur die schönen Stimmen unserer Mädchen. Natürlich sind die Jungs auch seeehr gut bei der Sache, aber bei dieser Optik..., und dann die professionelle Geige, das macht schon 'ne Menge her. Alle sind beruflich eng eingebunden, d. h. rechtzeitig melden wegen der Termine. Hörprobe gefällig? Kein Problem. Einfach mailen oder die Songs anhören, die hier verfügbar sind (Danke an Herrn Maik König und Danke an Herrn Jörg "Jockel" Seefeldt!).
Anlage? Bis 200 Leute kein Problem, aber am liebsten richtig live und unplugged, so beim Lagerfeuer oder im großen Wohnzimmer...
Repertoire (alphabetisch, Änderungen vorbehalten)
o Als ich wie ein Vogel war (Renft)
o Alt wie ein Baum (Puhdys)
o Am Fenster (City)
o This Is The Life (Amy McDonald)
o Another Sad Song (Yasmin Tabatabai)
o At Your Side (The Corrs)
o Ayo Technology (Milow)
o Barracudas (Maik König für CHORUS)
o Beiß' rein (Ulla Meinecke)
o Breakfast At Tiffany's (Deep Blue Something)
o But I Do Love You (LeAnn Rimes)
o Bye Bye (Silly)
o Casanova Lover (The Vygors)
o Viva La Vida (Coldplay)
o Don't Dream It's Over (Crowded House)
o Fairytale (Alexander Rybak)
o Fucking Lovesong (Amiel)
o Für Dich tu' ich fast alles (Ulla Meinecke)
o Gegen die Strömung (Udo Lindenberg)
o Geiler is' schon (Marius Müller-Westernhagen)
o Good Day (Lena)
o Greyhound Morning (Jörg "Jockel" Seefeldt für CHORUS)
o I Can See Clearly Now (Jimmy Cliff)
o Jugendliebe (Ute Freudenberg)
o Kiss Me (Sixpence Non The Richer)
o Kling Klang (Keimzeit)
o Mein Ding (Udo Lindenberg)
o Momente (Hansi Biebl)
o Not Fair (Lily Allen)
o Over My Shoulder (Mike & The Mechanics)
o Road Trippin' (Red Hot Chili Peppers)
o Run Away (Maik König for Chorus)
o Sitting, Waiting, Wishing (Jack Johnson)
o Sunny Came Home (Shawn Colvin)
o Supergirl (Reamonn)
o There She Goes (Sascha))
o Whisky In The Jar (Thin Lizzy)
o Time Of Your Live (Green Day)
o To Be With You (Mr. Big)
o Turn Off The Sun (The Vygors)
o Vom selben Stern (Ich & Ich)
o Walking Boots (Nancy Sinatra)
o Where You Lead (Carol King)
o Won't Back Down (Jonny Cash/Tom Petty)
o Zeit die nie vergeht (Perl)
u. a.
Kontakt
Jens Voigt
Lange Straße 31
19230 Hagenow

Telefon: 01732342734

Songs
Greyhound Morning - Danke an Jörg "Jockel" Seefeldt
Barracudas - Danke an Maik König
Fotos