Mind the Moon
Bandinfos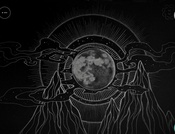 Mind the Moon wurde im Winter 2016/17 an ein paar nebeligen Wochenenden in Hamburg gegründet (Sänger, 2 Gitarren, Bass, drums).
Die Hälfte von uns war schon in den 90ern aktiv. Trotzdem sehen wir uns als Anfängerband und spielen rau und unmittelbar mit unverbrauchter Stimme.
Dabei landen wir mit unseren Songs irgendwie immer wieder bei dem, was als Postpunk, darkwave oder psychedelisch bezeichnet wird. Auch unsere musikalischen Ausflüge ins sonnige Mexiko führen uns nach einer Mondnacht wieder zurück in die morgendliche Dämmerung.
Mind the Moon is an English singing band for small audiences.
Mind the Moon was founded in winter 2016/17 on a few foggy weekends in Hamburg (voc., 2 git., bg., dr.). Half of the band was already active in the 90s. Nevertheless we see ourselves as a beginner's band and play roughly and immediately with unused voice.
At the same time, we often end up with our songs with what is known as Postpunk or darkwave. Also our cheerful musical trips to sunny Mexico lead us back to the moon and the dawning day. A kind of psychadelic post-punk power pop. The first 5 P - Band of the 21st century ;-).
Alle Texte und Kompositionen von Mind the Moon sind urheberrechtlich geschützt, aber GEMA-frei.
Homepage
https://mind-the-moon.bandcamp.com/merch/mind-the-moon
http://www.mind-the-moon.de/Startseite/
https://www.backstagepro.de/mind-the-moon
Bandnet-URL:
http://www.bandnet.de/band/mind-moon
Konzerttermine
Kontakt
Mind the Moon
Mind the Moon
22589 Hamburg
Kontaktformular - hier klicken, um eine Mail zu senden